We were recently contacted by Pierre Giustiniani from Marseille, France, a reader of our book Focke-Wulf Fw 190 in North Africa. He had questions about the camouflage of the Fw 190s that flew with Erprobungskommando 19 in North Africa, and specifically Fw 190 A-3 Trop WNr. 0130 514 (fitted with an A-4 radio mast), found at Benghazi airfield in Libya by British troops. He has built a nice example of the new Eduard model in 1/48th scale and has written an article, which is published in the Wingmasters Magazine No. 128 (LINK) by Histoire & Collections. His initial message led to a correspondence and we decided to ask him a few questions in return.
1) When and how did you become interested in Second World War aviation?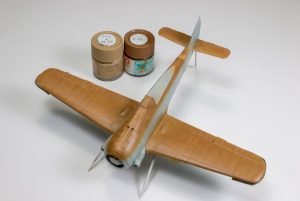 Well, this interest appeared a long time ago. As a child I was very interested in model aircraft (it was the period of Matchbox). Modeling was really not as nowadays; you can easily buy models, and painting and weathering was less professional back then. Beside that I was a fan of those brave pilots and my head was full of Corsairs (with the series Black Sheep Squadron), Messerschmitts etc. While getting older I had the opportunity to dive on wrecked aircraft (the last one was a Bristol Beaufighter Mk. VII) as a professional diver specialized in archaeology (although my primary job is dental surgery). The area where I live is very rich in wrecks and objects from antiquity to the last world war. So we have in the bay some wrecks of Ju 88s, a Bf 109 G-6, and He 111s. Discovering, touching for the first time an aircraft brings a lot of emotion and it's always an adventure. Modeling is helpful and helps me determine what kind of aircraft it is or what the parts are laying on the bottom.
2) Why did you choose to make a model of the Fw 190?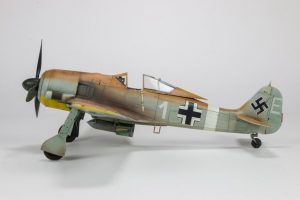 The opportunity came with the reissue of the new moulds of Eduard's Fw 190 A in 1/48th scale. As I'm fond of desert camouflage I bought the royal class edition – the only one that allows for an A-4 Trop with tropical filters. Eduard's new moulds are really good and easy to build. The A-4 Trop is a little bit tricky as the replacement of the air filters by tropical ones requires you to change the lateral panels of the engine in a complex area. Then, as I work sometimes with the French magazine Wingmasters it was a good occasion to build and paint it!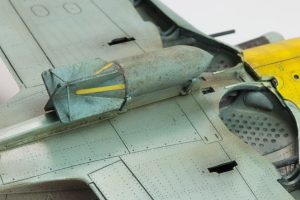 3) What is your favourite Luftwaffe aircraft?
I do not have a favourite one, as I like them all (or almost). I have a little preference for fighters, but I also like the aircraft from the beginning of the conflict, like the biplanes Heinkel 51 and Henschel 123.
4) How do you find the aircraft you want to make a model of?
Eduard's old moulds of the Fw 190 A were tricky to build (and mainly in all close configuration). Eduard, as with many manufacturers, chose the way of simplicity. The former model was really complete (engine, …) but complex to build. Now they make models that are easy to build with their new moulds. If the modeler wants to add details, accessories come to help him (but the price of the model gets higher and higher). As I have mentioned above you need to be really careful when cutting off engine panels to replace them, but when it's done you'll have a really special looking aircraft, a 'brute élégante'.
5) What are you looking for in a good reference book?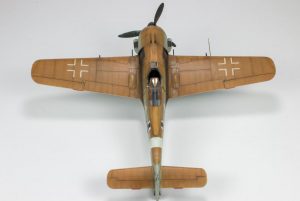 For me modeling also means history. If possible I build a model where I can study pictures of the subject. The Internet is a very good source, but as I'm 'old school', I really prefer to have books as support. The Internet allows me to choose the book I want, reading reviews of it. It is really complicated to paint a model based only on profiles. There are a lot of errors in them, and sometimes in books also, as some writers perpetuate some mistake from another book. So I'm looking for the most accurate books (even if I know that it's very difficult to get exactitude on every aspect, as a part of an archive has disappeared and the majority of pictures are in black and white). I'm also looking for a large amount of pictures (accompanied if possible by profiles). The top notch case is when you can contact an author, as I did with you, and have an exchange. It is very constructive for me and very pleasant to know more of the history of the aircraft and possibly the pilot.
6) How long have you been making model kits?
I began at age nine until around age sixteen, and then I had a long break. I got back to modeling seven or eight years ago, and I was really surprised by the huge offer of models. In addition to the variety of models, I was amazed by the quality, the variety of paints, the accessories in resin and photo-etched parts. Back in the day 1/32nd scale was something exceptional – nowadays it is not something unusual.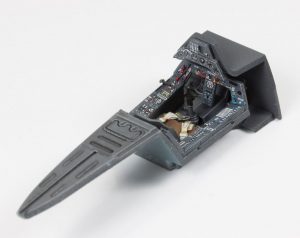 7) What got you started?
Well, there have been two periods in my modeler life. The first one was just building for fun when I was just a kid. The second period 30 years later was totally different. I am interested in building models, but I like to study the technical side as well as the historical background. Modeling for me is really interesting: curiously, even if my work is largely manual, this hobby is a source of relaxation; I am completely invested in it, forgetting all the little troubles of everyday life. It is also very interesting to read about the pilots and unit histories. Each model is a great source of knowledge and it seems quite infinite … I am always surprised to discover an aircraft, battles, etc. that I did not know of.
8) What scale do you prefer?
For First World War single engine aircraft 1/32. For some Second World War single engine aircraft 1/32 also (it allows the adding of a lot of details) but also 1/48. For bombers or big fighters, 1/48. I am very surprised by the issue of really big models (B-25, B-17, Lancaster etc.). They must be a lot of fun to build, but I really wonder where to display it when the model is finished.