Germany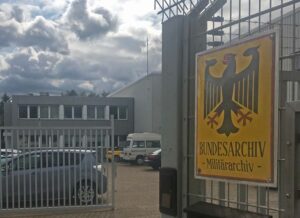 Bundesarchiv, Freiburg

This section of the Bundesarchiv (military) holds the majority of their documents – over 2,4 million pages of army, air force and navy material. There are 25 seats in the reader's room, which can be booked here: Bundesarchiv Freiburg
Using the archive is free and digital cameras are allowed.
You can search for files here: Search Engine, and order them when you book your seat in the reader's room.
For additional information about the available document series, please read these blog posts: Post 1 and Post 2

Bundesarchiv, Koblenz

This is the headquarters of the Bundesarchiv, and is the location of their photographic and film material. You have to order a seat in the reader's room. Seats are limited, so book one well in advance. You can book one of the seats in the reader's room here: Bundesarchiv Koblenz
There are costs associated with using the archive: Fees
The archive has started sharing some of its holdings online and they can be found here: Online Photo Catalogue
United Kingdom
National Archives, Kew

The main site of the National Archives contains millions of documents. The archive is very well-organized and easy to use.
Using the archive costs £5 (for a reader's ticket that is used for ordering files), after which it is free to use for three years. Digital cameras are allowed. For more information visit the archive web site.
It is not needed, but it is recommended that you book a table in the reader's room prior to your visit. If you already have a reader's ticket you are able to order documents in advance. For more information about Second World War-related use of the archive please read our blog post: The Value of the National Archives in Researching the Luftwaffe.

The Imperial War Museum, Duxford

The IWM has an archive near Duxford airfield where there are also many historical records relating to aviation in the Second World War. An appointment must be made in advance and documents pre-ordered. Digital cameras can be used.

Imperial War Museum, London

Situated in central London, this research facility has – for now – not been visited by Air War Publications.
United States
NARA II, Washington, DC

One of the many archives in the United States holding military records useful for researching the Second World War. The archive is free to visit and use, but it is more than four kilometres from the nearest metro station, so check out transport options if you do not have a car. If you plan a visit, you can find more information at the archive web site. Frequently asked questions are answered here: Finding Aids and FAQ.
Record Group 18 (RG 18) contains USAAF unit records from the Second World War, while RG 242 contains captured German records, including Luftwaffe material
It is one of the archives that have digitized a good amount of their files, so there is a chance that you can find what you are looking for online.
Any input or additions to military archives and how to use them are very welcome. Please contact us via our contact form if you wish to contribute.