Although there were not too many releases in the past twelve months, behind the scenes it was one of the most productive years Air War Publications has had in a long time. Not one, but two book projects moved close to publication, and there was progress on some others as well.
In mid-November we officially announced our imminent publication of Sven Carlsen's Night Fighters Over the Eastern Front book (see this link), and we are now in the final read through and editing of the manuscript. Claes Sundin has produced his usual high standard of profiles to help illustrate the book.
Meanwhile, Andrew has been working steadily on the final edit of Volume One of Doug Norrie's No. 450 Squadron RAAF history, and two-thirds of the main text is now ready for Morten to do layout. The colour profiles are also in development for this book, by talented illustrator Ronnie Olsthoorn.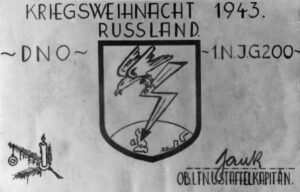 In terms of eArticles, we released Adam's excellent history of Küstenfliegergruppe 806 and Kampfgruppe 806, 'Over Sea and Land', and it was very well received. If you do not already have a copy, it can be found by following this link.
Andrew's long-awaited Air War Courland book experienced some progress, although not as much as it did in 2021. Handling the various other projects and working a full-time job besides has slowed Andrew down, although sections of the book have gone to Adam, Morten and some outside helpers for editing. Next year, once Doug's and Sven's books are out of the way, Andrew will turn his focus to finishing the final chapters of the book. In the meantime, more colour profiles have recently been completed, depicting several relevant Messerschmitt Bf 109s flown by an assortment of pilots over Courland in 1944 and 1945.
There is also good news for those awaiting Morten's book on the Henschel 123. Once we wrap up our projects with outside authors, Morten will be turning his attention to that story. It is definitely a 'watch-this-space' project and Morten is still collecting photographs and logbook material to help tell the story in depth. In addition, he continues to discover information in primary sources – often while looking for information for our other projects.
Meanwhile, Adam has been working away on a unit history of a Luftwaffe transport Gruppe, and there will be more on this exciting book project in 2023.
Looking further ahead, we will publish Volume Two of Doug's No. 450 Squadron history. Once that is done, and Air War Courland and the Hs 123 book are completed, Morten and Andrew will turn back to the Fw 190 in the Mediterranean series. We have gathered a lot of fantastic material for Volumes Two and Three, including plenty of first-hand accounts from Schlachtgeschwader 4 airmen operating over Italy. There are other book plans beyond that, which we will announce in due course.
So there is lots to look forward to in the New Year from Air War Publications. We thank our readers for being so patient with some of our book projects – we are a hobby company, so things tend to take longer than we would like!
Andrew, Morten and Adam hope all our readers and supporters had a safe and merry Christmas, and would like to wish you a prosperous and enjoyable 2023.