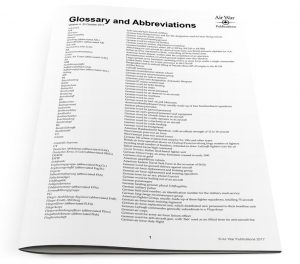 An updated and detailed glossary – version 4 – is now available to download for free from the Air War Publications website. It is full of terms and abbreviations relevant to those interested in understanding or researching the Second World War air fighting in Europe and the Mediterranean. The focus is on the German Luftwaffe, but information is included about the air forces of the other major combatants in the European theatre of war as well.
A valuable six-page list of terms and abbreviations is the main component of the glossary, but this document includes a whole lot more for the aviation history enthusiast. There are also individual sections on German aircraft camouflage colours, the awards issued by the Luftwaffe and Allied air forces, a comprehensive comparative ranks sections (featuring the Luftwaffe, Royal Air Force, United States Army Air Force, Soviet air force, and the Regia Aeronautica), and an aircraft anatomy and markings page, featuring the various German technical terms for parts of the aircraft and paint scheme, and their English equivalents.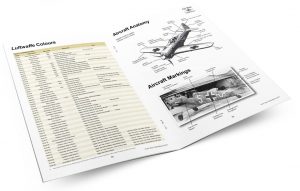 The most recent addition is a very handy section featuring single page descriptions of air force command structures. The major participants are all featured, starting with the Luftwaffe, the Royal Air Force, the United States Army Air Force, the Soviet air force, and the Regia Aeronautica. This has been added because we found that although there are many resources online, it is difficult to find a good overview of some of the air forces, in particular the Soviet and Italian air forces.
Thus the document provides a one-stop location for those wanting to learn the basics about the air forces involved in the Second World War. The glossary is available for free from here: LINK
We hope that people find this document useful.