We've been working on them for a while, and several biographies of Jagdgeschwader 2 aces are nearing completion. There will be three standalone biographies of the following prominent stalwarts of the Richthofen Geschwader:
Erich Hohagen (Ritterkreuz and 56-victory ace)
Kurt Bühligen (Ritterkreuz and Swords and 112-victory ace)
Kurt Goltzsch (Ritterkreuz and 43-victory ace)
These men have previously received little attention from authors and historians, so we are very happy to be able to tell their stories in greater detail than hitherto. Each article is fully illustrated with photographs, emblems, maps, and colour aircraft profiles. The aim of each 15-page article is to give the reader a good understanding of the man and his wartime career, using a variety of sources.
While Kurt Bühligen ended the war in command of JG 2 and flying the long-nose Fw 190 Dora, and Erich Hohagen joined Adolf Galland's elite Me 262-equipped Jagdverband 44 in the dying days of the conflict, Kurt Goltzsch's story is more tragic. Severely wounded in combat in September 1943, he spent a year in hospital near his hometown in south-eastern Germany, before finally succumbing to his injuries on 26 September 1944.
These articles will be of great interest to those who enjoy reading about Second World War aerial combat and the Experten (aces) of the Luftwaffe.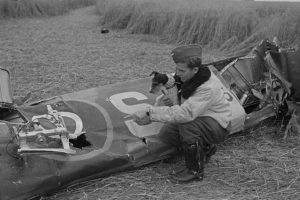 Left: Kurt Goltzsch by one of his victories, a Spitfire over Northern France.